In our previous article "How to Find a Language Partner Online? – My #1 Recommendation". I talked about a wonderful language learning community called Italki. Today in this Italki Review I am going to show you more features and explain what makes it very powerful resource for learning any language. Keep on reading, let's go!
1.Find Language Language Partners Quickly for Free
As we talked in the other article, in Italki you can find native speakers quickly. You can practice with them the language that you are learning. Sometimes you can give them tips how they could learn your mother tongue. This kind of language exchange is fun and very profitable.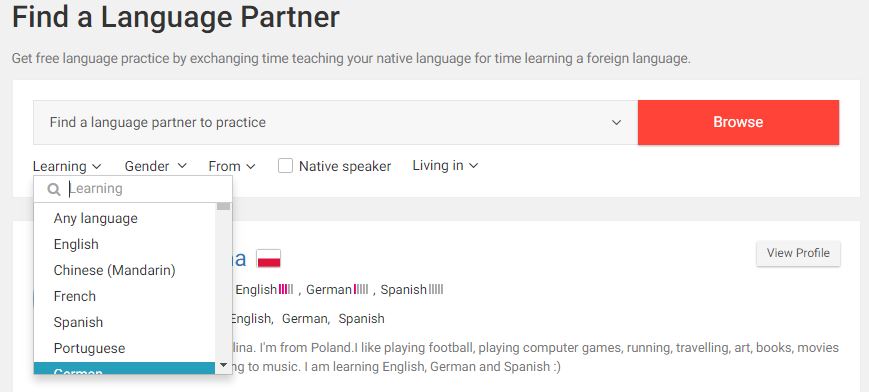 As you can see in the picture above, you can:
Choose a language to practice
Filter what language your language partner is learning
Pick a gender of your language partner
Choose if you want to practice with a native speaker or the other learner
Choose where your language partner is from and where is he/she living.
Of course, you can leave some of those blanks. For example, if it doesn't matter to you where a person lives, you can leave it blank, and the engine will search language partners from all over the world.
2.Community Tutors
There are thousands of language teachers and community tutors in Italki. What is the between of those two?
Community tutors are usually native speakers who can teach you their language for some money. They may be not certified teachers, but at the same time, their service is cheaper than professional teachers. The prices vary a lot. I did a quick search and found that you can find community tutors for example for under 2€/hour for Chinese. Of course, there are more expensive ones, but you can decide which one do you want.
Practicing language with a native speaker will help you to speak it like a native speaker. Simple? Of course, it takes time and practice that you will speak like a native, but with a good language partner, that process will be faster.
You can search for language teachers and community tutors in a similar way like you are searching language partners. However, the options are a bit different.
First, choose, what language you would like to learn. Then choose what language your teaches is also speaking. Let's say for example if you are a native English speaker and want to learn Spanish. You can choose a teacher who is a native speaker in Spanish and also speaks English fluently. It can help because then a teacher can explain some complicated things in English too.
You can also filter teachers according to their hourly rates. Maybe you want a cheaper or more expensive teacher. You can choose it. Then you can filter teachers who are also available for the weekend and even at night. Would you like to have a gift of $10 for language lessons? You can have it through this link.
3.Language Lessons with Professional Teachers
Would you like to learn languages even faster with a certified language teacher? Do you want to practice from the comfort of your room or anywhere on the world?
Before moving to Austria, I wanted to have some German lessons to improve faster. I immediately thought that the best place to find me a German teacher would be Italki. Why find a language teacher from Italki instead of "real life."
In Italki you can decide how cheap/expensive lessons do you want because there are so many different teachers. You can decide when do you want to have the lessons because there are almost anytime teachers available. You can have your lesson anywhere in the world. And it's easy to find a teacher who is a native speaker in Italki.
4.Language Learning Articles
In Italki you can find thousands of articles that give you tips to learn a language that you want. Articles are written almost about any subject by different community members. You can learn, for example
New everyday phrases
Idioms that you couldn't learn from a textbook
"6 ways to improve English/Spanish/Chinese/etc."
Important and practical grammar
Tips for faster language learning
Essential vocabulary
And much more.
Community members can write those articles. Then you can of course comment and share your thoughts with other people and so on.
5.Write a Text and a Native Speaker Will Correct It

In Italki you can write so-called "Notebook entries." They mean short articles that you can write in a language that you are learning. If you are learning, for example, French, you can write a short text describing your day in French. Or something that inspires you or just about anything you want.
Then native speakers can see the text, and they will correct it for you. Many times they will also give you tips how you could improve. That can be very helpful to improve your written language, and it's entirely free. Of course, you can also find a language partner and write little essays to each other to practice. Then you can read each others' texts and give feedback and how to improve next time. I have done it, and it's a fun way to learn writing a new language. You will also get to know your language partner better.
Italki ITCs
Italki has their "currency" TIC. 10 ITC = $1. It's not a real currency, but it's just made to make buying lessons easier. First, you buy ITCs and then with those ITCs you will buy language lessons. As I mentioned before, the price of the lessons varies a lot depending on a teacher or tutor. If you take for example 1 hour of language tutoring with a native Chinese speaker that costs 20 ITCs, you will pay $2 for that one hour of tutoring.
If you have any questions related to ITCs or any other subject that I have talked above, don't hesitate to ask and I will help you out.
What Are You Waiting for? Take Your Language Skills to the next level!
Registering to Italki is entirely free, and it only takes 2 minutes to create an account. I have hugely improved my language skills in Italki, and meanwhile, I have got to know many wonderful people. I believe that Italki can also give a great boost to your Spanish/German/French/Chinese/Japanese or whatever language you are learning.
Take your language skills to the next level. => Start today in Italki!