What Is Mimic Method All About?
How do children learn their mother tongue? Hearing what their parents and other people say and then by mimicking it. Over the time course, they become "native speakers". Basically, language is only a collection of certain patterns. I am sure that any human in the world can learn any language in the world with practice.
The purpose of the Mimic Method is to teach you to speak like a native. Sometimes I have heard the misconception that you can't learn to speak like a native. You will always have an accent. That is a myth and it's proven false by countless language learners.

The creator of Mimic Method is Idahossa Ness. As an adult, he has learned to speak Spanish, French, Portuguese, German and Mandarin Chinese "By Ear." That makes 5 languages in total. Sometimes people think at first that he is a native speaker because he speaks languages so well.
He made the same discovery like many other language gurus. He realized that children are learning languages quickly by hearing so why adults should learn by reading because it seems to take more time. As a lifelong musician, he knew the best techniques for ear-training.
–
UPDATE 2023:
–
Mimic Method Review 2020
I've just published an updated Mimic Method Review 2020 video on my YouTube channel where I show you what is Mimic Method all about, who is Idahossa Ness and how he can help you to learn languages faster.
You'll surely find the video helpful and informative.
If you have any questions regarding Mimic Method or learning languages in general, don't hesitate to ask me in the comments below and I'll be more than happy to help you out.
What Is the Traditional Way of Learning Languages and How Mimic Method Is Different?
Traditionally you study a new language in the following ways at schools:
1.Learn to read and to write a language
2.Study Grammar rules
3.Translate all words to your own language
4.Practice Conversation (through translation)
5.Improve your accent to sound better
Note that most of the e people have already lost your confidence in step 5 and they are saying, "Well, I can read and write in "X language" but I can't speak it very well." Many language gurus say that traditional way of learning languages is unnatural for humans.
Traditional methods focus on learning by eye while natural methods focus on learning by ear like children do.
In Mimic Method you will not be studying in a traditional way with your eyes. You will be learning by ear and start backward compared to traditional school methods. You will explore sounds, syllables and sentences of a new language so you can start to speak like a native right from the start. Why should you need first a phase of "speaking like a foreigner" and then refining your speaking bit by bit if you can learn the right pronunciation right away?
Mimic Method uses also music to reinforce learning. If we think about a language, it's basically a flow of syllables said in the right rhythm and intonation. It's like singing a song. You are using different kind of rhythms and tones in various languages. Compare for example Spanish and British speakers.
By learning the right intonation by using music it sinks deeper into your brain and memory. Then you can easily recall the good ways of saying words when you are next time speaking that language.
–
UPDATE 2023:
–
What Are the Main Benefits Of Using Mimic Method?
Idahossa Ness lists the benefits of using his learning method.
1.Hear the words in fast German/French/Spanish or whatever language that you are studying. Sometimes you may feel that native speakers are talking too fast that is hard to catch what they are exactly saying. You understand more or less what they say but noot 100%. Mimic Method's purpose is to help you to understand all that you hear in your target language.
2.Native speakers will understand you. Sometimes when you are having a conversation with a native speaker you know exactly what you are saying is right but for some reason, the other person doesn't understand you. Sometimes the reason can be that another person is just cocky and it bothers you that you are not speaking "the perfect" language. But most of the time the reason is that he/she just doesn't fully understand the meaning.
With the help of Mimic Method's practical training, you will mimic native speakers and sound like them. Then you will not have a challenge anymore that natives couldn't understand you. On the contrary, you may be mistaken as a native speaker.
3.You will gain lots of confidence to speak a new language. When you learn the right sounds and a native pronunciation with Mimic Method, you will speak like a native -> you will get compliments -> you know that you are talking it right -> your confidence to use the language can rise. However, for me sounding like a native is not a requirement for the confidence. I can speak foreign languages confidently without sounding like a native because I know that making mistakes is not a problem as far as I learn and the other person and understands me.
4.Learn faster than with traditional methods. Usually, with traditional methods, it takes even years to speak a foreign language. The founder of Mimic Method, Idahossa Ness, learned German in a few months. Now he shares the methods with you so you can get the same results as he got.
Life is full of causes and effects. If somebody gets certain results by using certain methods, you will most likely get the same results if you are doing what he is doing. The formula for success is simple: 1. Learn what successful people did. 2. Do the same and become successful too. This principle fully applies to language learning.
–
UPDATE 2023:
–
Mimic Method Testimonials
Here I took two testimonials of Mimic Method users. First guy started seeing remarkable results already in two weeks after using this method. His language skills were literally upgraded to a next level.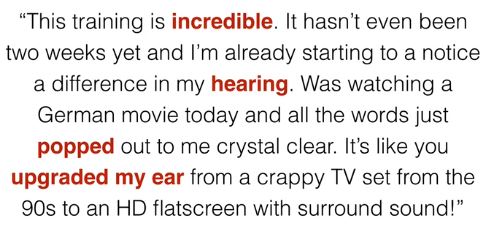 Another user had apparently already learned German before taking Mimic Method. Then after learning with this method he started learning a better pronunciation and getting compliments on his accent. This example proves that Mimic Method works also for those who have already learned a language before but they want to take their skills to the next level.

Who Is the Mimic Method for?
Mimic Method is for you if you want to understand better what native speakers say and to speak like a native yourself. It develops your pronunciation and understanding.
If you want to learn grammar then this method is probably not for you. This is neither for you if you want automatic work without any practice. You will need to dedicate time to learning. But this principle applies to any language learning method ;).
Idahosa Ness recommends using 20-60 minutes daily for this method. Then you will gradually make progress every day. If you practice a little bit every day you will go through for example Mimic Method German in 6 weeks. If you learn once or twice a week it will take around 3 months. Imagine what kind of progress you can make in such a short period of time.
Mimic Method doesn't focus on teaching lots of vocabularies but rather the right sounds. I think it's a good focus because many times in language courses we are studying irrelevant vocabulary that we don't even use in our everyday life. There are, for example, 135,000 words in German but 500 words make up 60% of all spoken language.
If you can hear/pronounce 500 most common German words you can perfectly hear/pronounce 95% of all German words.
So, by concentrating on learning the most important vocabulary, you can already manage quite well. 🙂
What Are the Prices of Mimic Method?
The cost of Mimic Method German,  Mandarin Chinese, French or Spanish is $147. You can learn more what those individual courses include by clicking one of those links. By buying the course you will get a lifetime access to all learning material related to that course.
All of them are based on the same method, but courses are individually formed because languages are different. They have different sounds and characteristics.

Then if you want to learn a few courses in a bundle you will get a discount. Typically one course costs $147 but if you buy two courses at once (for example Spanish and French) you get $70 discount on another course and pay only $77 for a lifetime access. If you buy 3 courses at the same time you pay $147 for the first one and only $57 for the second and the third course so you save $180 compared to buying them one by one.
My Final Opinion of Mimic Method
In my opinion, Idahossa Ness' Mimic Method is very interesting and creative. It's already used by thousands by language learners but is not as common as those traditional methods at the school where you learn with your eyes instead of using your ears. I think that Idahossa's method gives much better results because it focuses on learning right away the correct pronunciation from native speakers.
–
UPDATE 2023:
–
What do you think about Mimic Method? Have you already tried it yourself?
Let me know in the comments below! 🙂