French is considered by many to be one of the most eloquent languages in the world today, with a history that heralds back to the ancient days of Rome. This 'Romance' language is a unique blending of ancient dialects which has culminated into a language which imparts a sense of awe, beauty, and grace. If you choose to learn French, you can buy a book, take a class, or study a few Youtube videos. However, there's also another good, quick and easy way to learn French: FrenchPod101.
In this FrenchPod101 review, we are going to show you what is it all about and how it can help you to learn French as well. Let's go! 🙂
FrenchPod101 Review
---
Name: FrenchPod101
Website: www.FrenchPod101.com
Overall Rank: 4,5 stars out of 5
---
What Is FrenchPod101?
FrenchPod101 is a great way to learn this intricate, subtle and stunning language all at your own pace with no classroom, and no rigid rules to follow. In fact, FrenchPod101 is created to blend nicely into your daily life. The goal is to have each and every student speaking French after the initial lesson, using lessons which have been tried and tested by an instructor certified to teach French. Below is a brief summary of whats included:
Lesson Library
Flashcards
Vocabulary Lists
French Resources
My Teacher
FrenchPod101 is a part of 101Languages -series. You have probably heard of other ones. We have written articles of ChineseClass101, GermanPod101, and FinnishPod101 (Finnish is my native language and I found their resource very helpful for refugees who wanted to study Finnish while I was working in a refugee center).
Details of Each Section
The Lesson Library holds all of the lessons in your particular plan or subscription. Each lesson is comprised of two different media types, audio and visual. Categories in each lesson library include Conversation, reading and writing, vocabulary, grammar, and culture.
The My Flashcard section of each lesson is one of the most fun sections. Here you can customize your flashcards to suit your needs. These flashcards 'recall' your strengths and weaknesses and can help you improve just where you need it most.
Vocabulary list section is a massive area where you will have access to any word in easy to understand groups based on situations or events. Samples of these lists are vehicles, winter clothes, school subjects, occupations, etc. Whatever word you need, you will most certainly find it here.
French resources is an exciting area. This is where you'll find out about verbs, key French phrases, and pronunciation. There is even a 'Grammar' bank for those of you who may feel slightly challenged when it comes to grammar.
My Teacher is an invaluable asset to your program. Here, you can get 1 on 1 contact with your host, or certified French instructor. With My Teacher, there are different levels of communication-based on the final subscription that you choose.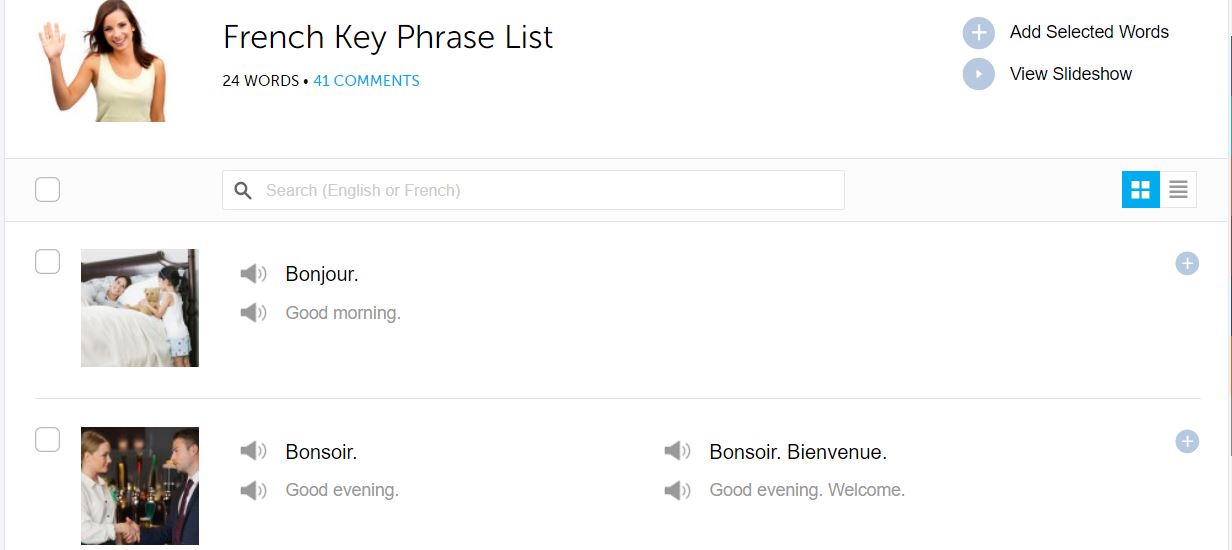 FrenchPod101 Lessons – Focus on Communication
When you get your lesson notes, they will be in PDF format. These notes provide you with a useful guide to everything from reading comprehension, pronunciation, listening comprehension, as well as in-depth discussions revolving around concepts, phrases, grammar, and punctuation. They also give you a taste of authentic French culture and experience with actual native speakers.
By the way, if you are looking for other great ways to improve your French pronunciation, you can have a look at Mimic Method and Speechling.
These lessons hinge around one concept: Communication. This means that while it is important to learn structure, the true goal is to get you up and speaking conversational French as soon as possible. You'll learn conversational French in a sensible, honest way which includes current phraseology, topics, and vocabulary. Each lesson will take a phrase and break it down into syllables, and you'll be asked to repeat the phrases found in each lesson out loud until you feel comfortable with them.
As you can see, this is a fast and easy way to get a good grasp on conversational French, and it is also why Innovative Language Learning has earned their huge following. When you look at your lessons, you'll see them neatly sectioned off into 5 levels. These levels include Absolute Beginner, Beginner, Intermediate, and Advanced. These are broken down even further into series, which have their own levels, with each series having different seasons, and each season is sectioned off into sets of 25.
When it comes to the audio part of your lesson, you won't be disappointed. Here, they have developed and incorporated several audio learning aids such as Review track, dialogue track, expansion with audio, line by line audio, and grammar points.
Below we have given you a quick summary of these convenient lesson features:
Review Track: The review track helps you to review the vocabulary words in each particular lesson. The track gives you the word in French, and then allows you time to say what it means in English.
Dialogue Track: The dialogue track will hold the conversational part of the lesson. What's handy about this, is that you get to concentrate on the dialogue without reviewing the entire lesson.
Expansion with audio: Here, you'll get all of the vocabulary words in the current lesson, along with sentences to help you see how they are used in conversational French.
Line-by-Line Audio: This lesson feature takes the dialogue and sections it off line by line. This is a great way to learn each line on its own, and also assists with listening comprehension.
Grammar assistance: Enter what you are concerned about in the search box. Once you do that, all lessons that can help you with that Grammar point will appear.
FrenchPod101 Features
Are you apprehensive about actually speaking the language correctly? Well, don't be because FrenchPod101 incorporates the use of a user-friendly voice recorder for every lesson. This way, you can compare your pronunciation with that of your instructors. This type of immediate feedback is absolutely priceless when it comes to honing your French speaking skills.
When you take this class, you will always be keeping you up to date on the popular French culture. You'll learn about their culture's sports, arts and entertainment activities, celebrities, as well as any events which are central to their culture. This is an important feature, as we are well aware that while standards in grammar and punctuation will always apply, a language can change here and there over time with the addition of new ways to describe what's going on in the world around you, such as slang or dialects of different areas.
Remember, this course is mobile, which means you'll be able to learn at your own pace wherever you are: On the train, bus or while sitting on the beach taking in the sun. You'll have complete 24/7 access to our detailed lesson notes, Premium Learning Tools, and French Resources Center, along with helpful exercises and quizzes.
If you know a little French or are using this to review, you can actually set your own learning level via our easy to use Dashboard. From here you can check any level from Absolute Beginner to Advanced and take it from there.
An excellent benefit is their dedicated FrenchPod101 community of fellow learners. You'll find that these people are more than happy to assist you when you need it. Indeed, the FrenchPod101 community will always be there to make sure that you never left alone when it comes to learning as much as you possibly can. A good thing to know is that you get the first 3 lessons in each series completely free at no cost to you, so you can sit back and relax with a cup of coffee, and sample different levels.
FrenchPod101 App 
As stated, this course is designed to be mobile, so access is delivered by way of an app. This app is available for Android, iPhone, iPad and also for Kindle Fire. This app is all you'll need to gain access to hundreds of lessons in both audio and visual format. You may download the app for free, simply choose a unique login name and strong password.
As each lesson is optimized to match whatever device you choose to use, every lesson will be displayed in an easy to view, crisp and clean screen. Whats super nice about this is that once you do log in, you get immediate access to your lesson without having to store it all on your phone.
So, you have all the benefits of on the go learning, without the storage headaches of having to purchase additional storage. If you encounter any issues with your app, they have provided you with an excellent online customer service staff available 24/7.
Other features of the FrenchPod101 mobile app include a download manager for the offline study, an upgrade In-app to make upgrading easy, and innovative lesson tools. Examples of innovative lesson tools are PDF notes, line by line transcripts and vocabulary lists with audio.
Full language library, iCloud sync, multiple playback options, fully integrated learning system and personalized learning system are also included.
Is FrenchPod101 Free?
FrenchPod101 is free but they have also premium memberships.
This course is broken down into 4 plans: Free, Basic, Premium and Premium Plus, with each plan catering to a specific need. There are 5 subscription levels: 1 month, 3 months, 6 months, 12 months, and 24 months. We have included the current prices below. Please remember that these prices are only a guide and are subject to change.
Free
All Subscriptions in this plan are free
Basic
1 month: $8.00
3 month: $21.00
6 month: $36.00
2 month: $60.00
24 month: $96.00 (=$4 per month)
Premium
1 month: $25.00
3 month: $66.00
6 month: $120.00
12 month: $180.00
24 month: $240.00 (=$10 per month)
Premium Plus
1 month: $47.00
3 month: $125.00
6 month: $220.00
12 month: $316.00
24 month: $549.00 (~$23 per month)
When you compare these prices to a standard college course, which can mean thousands for just one semester, you can see the value you will be getting. Payment is easy, as they accept PayPal, Credit card or bank wire transfer.
If you are curious, Innovative Language Learning has made it easy, just visit their home page and sign up for a Free Lifetime Account and 7 Day Premium Trial.
If you are not happy with the course, you are free to cancel anytime, or if for any reason you are not happy within the first 60 days, they will refund you the full amount of your membership.
Conclusion – Is FrenchPod101 Worth It?
All in all, this is one of the best and most complete and affordable French courses you will find online. Innovative Language Learning has created easy to comprehend lesson plans which include the French alphabet, key phrases, vocabulary lists, common French words, pronunciation, verbs, and grammar.
You'll find their language learning app is second to none and will provide you with hours upon hours of well-crafted lessons and superb study materials. This is a great product, one that you'll find yourself returning to again and again in your quest to learn that most exquisite of languages, French.
---
Have you tried FrenchPod101 or other language courses from 101Languages?
Let's discuss in the comments below! 🙂