In this GermanPod101 Review, I am going to show you one of the best German learning tools in the Universe. I wish I would have used this tool while I was living in Austria so I would be able to speak German now fluently.
If I'm ever going to move again into a German-speaking country, I'll use GermanPod101 for sure because it's, in my opinion, one of the easiest and fastest ways to learn German. It beats the "old-school" classroom learning like 100-0.
In my opinion, German is one of the most useful languages in the world. There are more than 90 native speakers in the world and hundreds of millions of people can speak German as a second-, third- or fourth language. German-speaking countries like Switzerland, Austria, Germany, and Lichtenstein are rich and the salary is good if you are looking for new work opportunities. Being able to speak the native language fluently opens you lots of new opportunities.
GermanPod101 Review
---
Name: GermanPod101
Website: www.GermanPod101.com
Overall Rank: 4,8 stars out of 5
---
What Is GermanPod101?
GermanPod101 is an effective German learning resource that is created by a famous learning institute Innovative Language. They have created one of the most popular language series called LanguagePod101. They provide similar resources for learning numerous different languages including all the big ones like Chinese, Spanish, French, Arabic and also some smaller ones like Finnish.
GermanPod101 provides a huge library of learning resources. Take a look at the picture below:

+1,400 Audio and Video Lessons
Knowledgeable and Energetic Hosts
Detailed Lesson Notes in PDF
Lively Community of German Learners and Lesson Discussion
Possible to Use It "On-The-Go" with Your Smartphone
If you have experience of other LangaugePod101 courses, I can tell you that this works with same principles like other ones. There are tons of resources for learning grammar, vocabulary, pronunciation and all the other details of your target language. But if you don't have experience of their other courses, you can always get started for completely free.
Let me explain a few details to you. However, I don't through all their features in this article because you can try them yourself in 1 minutes just by signing up for free but I'll still explain why I think GermanPod101 is great.
GermandPod101 Features – You'll Never Run Out of Resources
First, I'll show you a video clip of their 3-minute German video series. They have created numerous high-quality videos where you'll always learn new skills in the German language. In this video example, you will learn how to introduce yourself in German.
GermanPod101 has numerous vocabulary sections where you will learn new German words quickly. They are called, for example:
Flashcards
Word of the Day
Word Bank
100 Common German Phrases
2,000 Common German Phrases
And so on.
In their lesson library, they have a huge library of audio and video lessons. In addition, they add new lessons regularly so you know that it's up-to-date. I like the fact that their lessons are short and filled with useful information.
They don't waste your time on meaningless things but instead, they go straight to the point. You can learn new words, sentences, and phrases quickly in a 3-minute audio lesson on-the-go or even while you are relaxing on your sofa.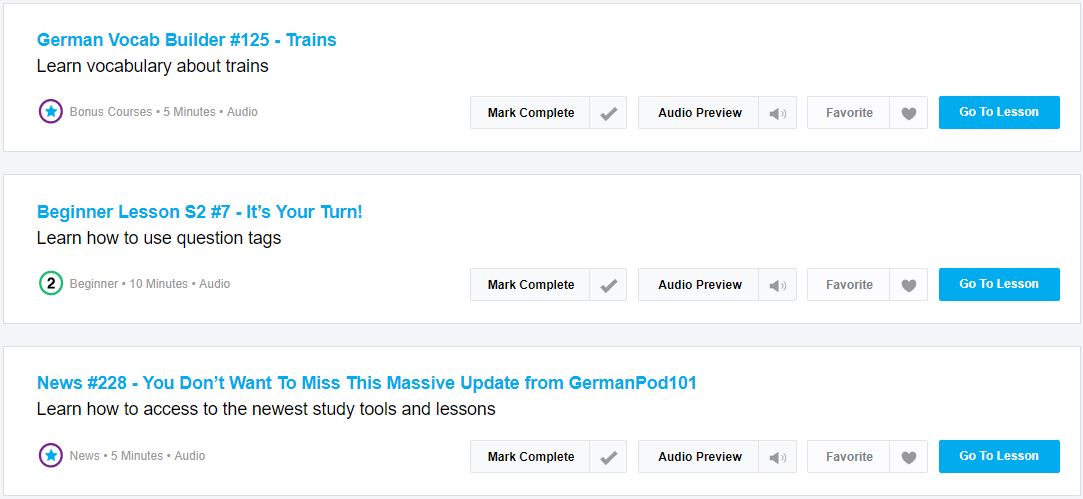 Personal Lessons and Coaching
With their Premium+ version you can also get a personal German coach that will take you hand-by-hand to the fluency. You'll have 1-on-1 lessons with him/her to track the progress and he/she will always teach you new skills.
GermanPod101 Word of the Day – Learn 365 Words in a Year

GermanPod101 has an interesting feature that teaches you "Word of the day". It's an easy way to expand your vocabulary daily. They share you one new word each day of the year. In my opinion, one of the most important keys to learning a new language (or mastering any other skill) is consistency.
I always say that it's much better to study 15 minutes a day rather than 2 hours twice a week. One of the richest men in the world, Bill Gates, said that he didn't have a single day off in his twenties. We can see what kind of positive impact it had on our world. The best swimmer in the human history, Michael Phelps, said that he worked every day for 5 hours when he wanted to win. These are some powerful examples what consistency can make for you.
GermanPod101 App for Mobile
They also have a mobile app that you can quickly download to your Android or Apple phone. It's called Innovative: Learn 34 Languages. It has been downloaded more than 500,000 times from Google Play store and probably a huge number of times from Apple's App Store as well.
It has an average rating 4,4 stars out of 5 based on 11,708 reviews so people seem to be loving it.
You can use the GermanPod101 mobile app with the same login information that you use the desktop version.
In my opinion, it's great to have a mobile application because then you can learn a new language without using a minute of your time. You just plug in the headphones and start listening to a lesson when you are walking somewhere, sitting on a train or in a bus or driving from your workplace.
Once I had to go 45 minutes every day back and forth by bike to my workplace. So, I was sitting at least 1,5 hours 5 times a week on my bike. I calculated that it's 7,5 hours a week (+all other bike trips that I made). I decided to use that 7,5 hours effectively and I always listened to a French podcast. You can imagine how fast progress I was making. And I wasn't using a single minute to study it!
I have used the same technique also for learning Spanish and German. You can use it as well! 🙂
GermanPod101 Cost – Very Affordable!
GermanPod101 has 4 pricing plans:
Free
Basic
Premium
Premium+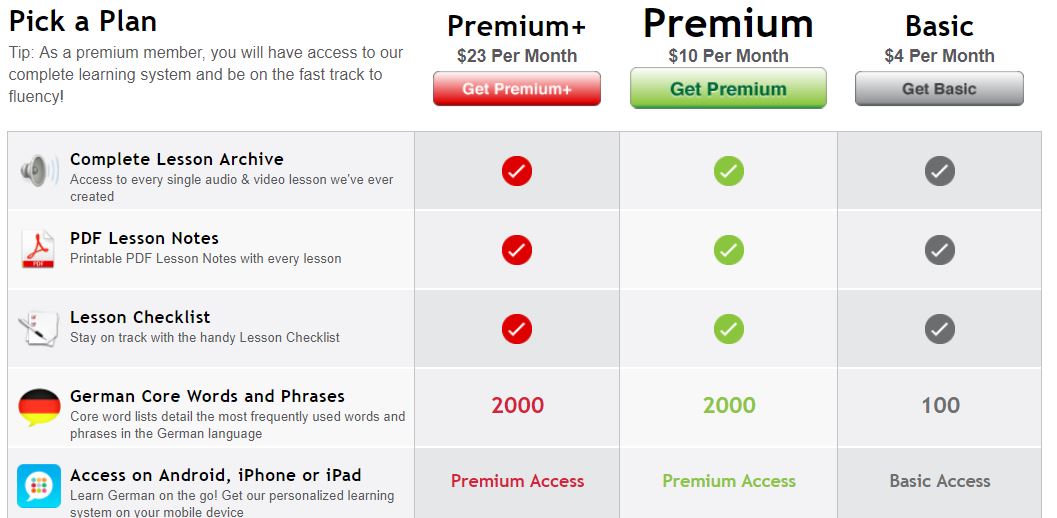 The cost of each plan differs based on the length of your subscription. If you take, for example, 12-month plan it's always cheaper per each month compared to a 6-month plan. I recommend that you sign up for completely free, take a look at different pricing plans and features yourself and decide which one suits your needs the best.
Many people say that the Premium plan has the best price/quality ratio on GermanPod101.
It seems that they have often some promotions and campaigns when they are offering the yearly or 24-month membership for even a cheaper price. For example, now when I am writing this in December of 2017 they are offering 24-month premium membership for a discounted price $108 for 24 months.
That's an extremely cheap price and it's only something like $0,15/day. If I visit once (or twice, depending on the country) in a massage, it costs the same price like a 24-month subscription for GermanPod101. In addition, they give you a 60-day money back guarantee. I think that anybody could go from 0 to fluent with GermanPod101 in two years.
You can just sign up today and they will inform you soon about new offers or you can upgrade right away because the price is usually very affordable.
If you really want to become fluent in German, I suggest this: Are you ready for a challenge? 😉
Download GermandPod101 24-month plan.
Study German with their app every day for 60 minutes.
Before 2 years is gone you are a fluent German speaker.
GermanPod101 Pros & Cons:
Pros:
Easy-to-use
A huge amount of resources to learn German
Mobile app available => Learn on-the-go
Created by a big and a reliable language learning institute
Gives proven results. Already millions of people worldwide have used LanguagePod101 series
100% money-back guarantee
Cons:
Some people don't like that they try to sell the 24-month plan (even though it's the cheapest one if you use it for so long).
Conclusion – Is GermanPod101 Good?
Among my best friends, I have a reputation as a frugal man. I don't use the money on overpriced or useless things. But when I look at GermanPod101 and other language learning tools in LanguagePod101 I think that the pricing is pretty cheap. You can get literally all tools you need to become fluent in German for just a few dollars per month. Just skip a pizza once and you have saved money for GermanPod101 for several months.
If you want to learn German, this is the way to go. You can also use GermanPod101 while you are using other resources to learn German. It will give "fuel" to your skills and consistently improve your skills if you go through their materials. A great thing compared to an "old-school" classroom learning is that you can move forward as fast as you can. You can even become fluent in 3 months if you have lots of time and dedication to learning.
---
Have you already tried GermanPod101? What kind of results did you get?
What other resources have you used for learning German?
Looking forward to hearing from you! 🙂