What Is Memrise All About?
Memrise is a language learning tool like Duolingo. It is a "game" where you earn points by translating words and sentences from one language to another, for example, from Spanish to English or vice versa. In Memrise you can also learn other things like ear training for music but in this Memrise review, we are going to focus on language learning.
---

Name: Memrise
Website: www.Memrise.com
Price: Free. Pro version $9/month or $59/year
Overall Rank: 88 out of 100
---
How Does Memrise Work?
In Memrise there are probably more than 300,000 of courses. According to their statistics, people have learned already more than 285 million words through Memrise. Anybody can create a new course to Memrise. After that, anybody can also use that course for language learning.
Let's say that you want to learn Spanish. These are examples of courses that you can go through if you want to learn Spanish:
Spanish 1-7 (162,5k people have played, all 7 courses take 54h in total)
Advanced Spanish ( 62,8k times played, takes 21h in total)
Learn Conjugation Spanish (22,4k, 17h)
100 Most Popular Spanish Verbs (18,9k, 2h)
350 Spanish Sayings (13,9k, 6h)
And Much More!
There are also courses for different subjects like religion, politics, music and literally everything that you can imagine.
Then you choose one of the courses that interest you and start learning. You can go through as many courses as you want at the same time. There are no any limitations. Then you can set goals yourself how much you would like to study each course every day.
How to Use Memrise?
First, you need to go to Memrise.com or download a Memrise app for your smartphone. Then you can create an account even in 10 seconds by giving a username, an email, and a password. Or you can also connect with you Facebook or Google+ -account.
Once you have created and account, you are inside! Then choose a course you want. If you are just starting a new language take, for example, Spanish/German/French/etc. 1. There you will learn basic phrases and the most important words. As I mentioned, there are also many different kinds of courses so you can use Memrise even though you would already have an advanced level in your target language.
Let's say that you want to learn French and you choose a course French 1.
The clock starts ticking and you have about 10 seconds time to choose the right answer. If you choose right, you earn points and you make progress in your course. If you answer wrong, then you need to go through the word again that you would learn it.
You need to know the same word/phrase 6 times right in total until Memrise lets you proceed in the course. There are usually 5 words in one section. For example, "Hi!" "How are you?" "What's up?" "What is your name?" "I am…" Once you have got all them right, you go to next 5 words/phrases.
What Languages Can I Learn on Memrise?
You can learn tens of different languages. All big languages that you can imagine are available on Memrise. As I mentioned, anyone can create courses on Duolingo so a number of courses are all the time rising and new languages become available. You can also create a course of your language if you want.
Motivational Aspects of Memrise
In my opinion, one of the best things in Duolingo, Memrise, and other similar language games is that they keep you motivated because you can track your progress. If you would be studying new words from a dictionary, it would A) become boring very fast and B) be quite useless. But with this kind of games you are able to enlarge your vocabulary quickly.
1.Set Your Daily Goals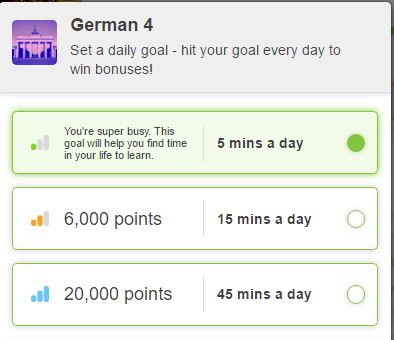 With each course, you are able to set daily goals. There are three options: 5 mins a day (=1,500 points), 15 mins a day (=6,000 points) and 45 mins a day (=20,000) points.
Once you reach the target amount of points, you have reached your daily goal. Then you can see how long streak you can make. I know from experience that once you have started making your streak longer, you don't want to break it. Once I had a streak of 100 days in Duolingo because they have a streak system too.
2.Course Leaderboard
There is a leaderboard under each course. The more points you have, the higher you are. There you can compete against other language learners. It's motivating to see how you are closer to the top when you are learning new words.
You also see that you are not alone with your language learning. God created humans social to interact with each other so it motivates to see how other people are making progress.
3.Earn Badges
The more points you have, the better badge you will have. Below you can see the list of all badges that you can achieve in Memrise: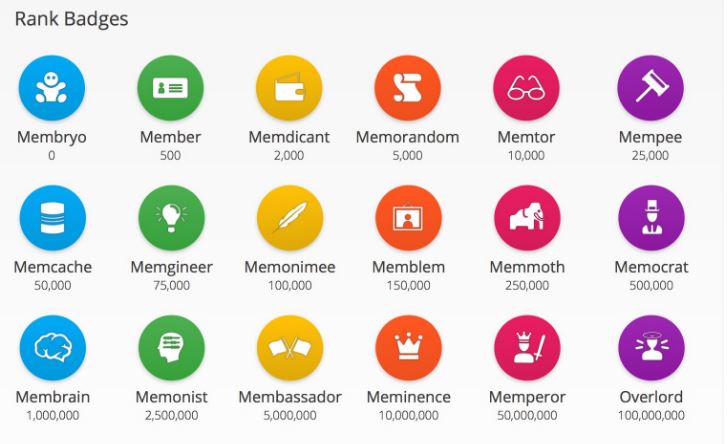 In the beginning, you will earn new badges quite quickly but when you get further you always need to earn much more points in order to earn the next badge.
4.Earn Points
When you are going through a course and you can translate a word right, you earn points. Each time you earn 45 points when you are having a streak of right answers. If you answer wrong, and next time right, you earn only 15 points. Then you will also earn points depending on how quickly you gave the right answers.
What Are the Prices of Memrise Or Is It Totally Free?
You can use Memrise for totally free. You don't need to use a single penny if you don't want to and still, you have access to all their courses. That's an awesome benefit of Memrise.
There is also Pro version available if you want to boost your learning and get some extra features.
Practice listening skills with special learning mode
Learn with videos and real people
More statistics about your progress
Visualization of your learning habits helps you to focus your efforts, keep up with your study goals and maintain motivation.

Memrise adaptive technology detects problems and creates personalized sessions to fix them
The price of Memrise Pro Version is $9/month, $19/3 months or $59/year. In my opinion, the price is quite cheap and it can be definitely worth it. Compare to language courses where you must pay hundreds of euros. When you invest some money to your learning it also motivates you to push harder because you know that your money is also in the game.
My Final Opinion of Memrise
Memrise is a great language learning tool and I recommend to give it a try. The greatest benefits of Memrise is that you can enlarge your vocabulary and learn new phrases in a fun way. It's quite easy to keep motivated with Memrise because you can see your progress all the time.
However, I wouldn't depend only on Memrise when you are learning a new language. You are not learning phrases or words in a larger context. Eventually, you should be able to use your vocabulary in a natural context when reading a book, when talking with people or when listening to that language. Still, Memrise is a great supplement to your language learning arsenal and it can give a great boost to your language skills.
If you want to become fluent in a foreign language, I recommend you to take a look at Benny Lewis' Fluent in 3 Months Premium Course. It's our #1 recommendation because reading Benny Lewis' material made a significant breakthrough with my language learning. I started to learn languages much more easily than before. Take a look to Fluent in 3 Months -course here.
I hope enjoyed reading this Memrise review. If you found it valuable and you think that someone else would benefit from this information, please share this post on your social media.
Have you used Memrise or other similar language learning tools? What languages did you study? Did you find them useful? Leave a comment below?