Why German Is Easy is a language hacking eBook written by the most famous language guru in the world, Brendan "Benny" Lewis. He tells that he had studied German for 5 years at school, but when Benny visited Germany, he wasn't even able to buy a train ticket using German.
After many years, when he had learned better techniques to master new languages, he took a challenge to become a fluent speaker in German. He set the goal to reach C2 (=the highest) -level in three short months. He started an intensive studying and went to a language test. He passed 4 out of 5 parts in the C2-language test. He had become, not only a fluent speaker but almost like a native speaker.
In this course, Benny shares his language hacks for learning German.
---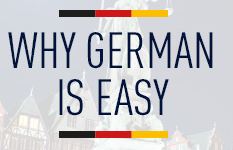 Name: Why German Is Easy
Price: $37
Author/Founder: Benny Lewis
---
What Is the Content of  "Why German Is Easy"?
Why German is Easy -eBook consists of 3 parts. In the first part, Benny gives an introduction to the book and his language principles in general. In my opinion, language learning is 80% psychology and only 20% of right techniques. When you have a right mindset, you will learn a language much faster. That's why the first part of the book is highly important.
For example, instead of being afraid of making mistakes you can start embracing them. It doesn't mean that you would make mistakes on purpose but use mistakes as proof that you are trying. As John Maxwell says, "Sometimes you win, sometimes you learn." Making mistakes are an inevitable part of mastering a foreign language.

The second part concentrates on German grammar. First, I was surprised, "How Benny Lewis is concentrating on grammar?" :O But then I realized that this grammar part is much different than typical grammar lessons. It doesn't try to force you different nuances of German grammar like they do in most of the German textbooks. Instead, it teaches great German language hacks that will help you to learn grammar much faster.
For example, some English speakers ask, "Why can't German just add a 's' for plurals like in English?" Actually, in English, they don't always add 's' for plurals. Think, for example, "child -> children", "man -> men", "mouse -> mice".
But German grammar is pretty straightforward. Masculine words usually just add -e to the end. "Arm -> Arme", "Hund -> Hunde" (=dog) and so on. Then over 90% of all feminine nouns have the plural -en/-n. For example, "Arbeit -> Arbeiten" (=work), "Regel -> Regeln" (=Rule)
The third part gives you "hacks" how to master German vocabulary faster. As an English speaker, you have a huge advantage when studying German. They both come from the same language root and they are pretty similar in many ways. Many times you just need to know an English word and then say it, and even a German person who doesn't understand a word of English will fully understand you.
German also has many loan words from other languages like Latin and French. If you already know some French, it will give you an additional advantage when studying German.
3 Bonus Tools
"Why German is Easy" -eBook is the primary product in this course, but there will also be a few bonuses. I will explain them one by one.
Bonus 1: German Digital Immersion Device Setup
In this bonus, Benny will go through step-by-step how you can set German as the main language in your digital devices and Facebook, for example. Setting up German as the primary language can quickly boost your German skills without putting almost any effort.
Bonus 2: German Online Immersion Daily Schedule
This gift helps you to plan how to study German in your daily life. Benny also shares many useful links and resources that can be helpful and creative ways to learn German.
Bonus 3: Customized Anki flashcard decks for German
Anki is a free language learning software that helps you to learn words with flashcards. Typically you need to set up your words yourself, but in this bonus, Benny gives you his flashcards so you can use them. There is a vocabulary for beginners and advanced German learners.
Who Is "Why German Is Easy" for?
This course is targeted mainly for German beginners and intermediate speakers. The tricks and principles that you learn in this book will help you to master the German language. But remember, none of those tips in this book will work until you put them into action in your life.
I think that also advanced German speakers can learn something from this course, but this will probably be more profitable for those who are just starting or have an intermediate level with German.
In my opinion, this book is especially those who think that German would be hard. After reading this book, you'll not feel like that anymore ;).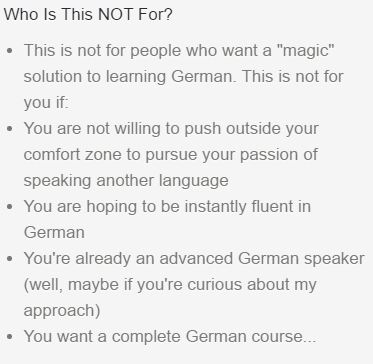 The Crucial Question: Why German Is Easy? 😉
I have already talked why German is easy in another article but here are some reasons that Benny shares on his ebook:
In German, there are
no tones (Chinese),
no vast number of conjugation combinations in active use (Spanish)
no liaisons between words (French)
no future subjunctive (Portuguese)
Here are only 4 reasons why German is easy but in his eBook shares, even more, reasons. I think that nobody who has read this book will say anymore that German would be difficult.
What Is the Price of This Course?
This course costs $37 which equals to a price of a shirt or a dinner in a restaurant. In my opinion, it is a reasonable price of this course because a benefit can be much greater for your life. Imagine that you learn to speak a German fluently and it will have a great impact on your job career. Then this course will potentially give you the value of thousands of euros.
Yesterday I went to buy food from the cheapest grocery store in the country and a total price was around 46€ ($50). And I am just a single, so I am buying food for myself. If I compare how much money I use on buying food, I think that this course is quite cheap.
Of course, one can try to find these tips for free on the Internet which is entirely fine. But it also takes time. In this book, the most famous language guru has collected his tips to one book.
You may also want to consider getting Benny's Fluent in Three Months where you will get material for more than 10 languages by buying a single product.
Pros & Cons
Pros
Very powerful language learning tips by one of the best language gurus in the world
Gives sound principles how you can fasten your German learning process
Explains why German is easy in a simple manner
Focuses on teaching the most important "hacks" of learning German
100% Risk-Free 30 Day No Question Asked Money Back Guarantee
Cons
eBook is not very long -> it's not very detailed
My Final Opinion of "Why German Is Easy"
This short course "Why German Is Easy" is a useful tool when mastering German. I think that this course would be beneficial for everyone who wants to learn German.
Especially I like the mindset of Benny Lewis. He knows from own experience that languages are not hard if you are learning with correct methods. If you are using "language hacks," your language learning process is much easier. But if you concentrate on learning with slow and difficult methods, it may take 10 years to master German.
But when Benny started to learn with right methods, he mastered German in three short months.
PS.If you are interested in learning more languages, then I would recommend getting the whole Fluent in Three Months course because there are tools for more than 10 different languages.
If you have any further questions about this course, don't hesitate to ask and I will be more than happy to answer personally.
Have you used Benny's products? Did you find them useful?
Let me know in the comments below! 🙂