Are you bored of learning grammar rules and looking for creative ways to learn a new language? Then Glossika may be a great choice for you. It is a creative language learning method created by American language linguist Mike Campbell. Let's have a closer look.
Glossika Language Training Review
---

Name: Glossika
Founder: Mike Campbell
Price: Varies.
–
UPDATE 2023:
–
---
What Is Glossika?
Glossika is a popular language learning tool that helps you to learn lots of new vocabulary and sentences. Instead of learning a thousand rules of grammar, they prefer to teach you how to speak a new language. Glossika has a very healthy approach to language learning and it has received very good feedback in a polyglot (=language learners) community.
In Glossika you will learn lots of very practical sentences that you can use in your every day life. It doesn't stop to learning only the basic, "Hello! How are you? I am fine, thank you. etc" They will teach you THOUSANDS of new sentences so you can achieve fluency in your target language.
Glossika is constantly adding more languages to their arsenal. Currently you can study around 35 languages and the number is rising. I am quite sure that your target language is also in Glossika. Their programs include even some very exotic languages like Icelandic, Lithuanian, Mongolian and more than 5 different accents of Chinese.
This video will explain what is the main idea behind Glossika Language Training. Enjoy!

–
UPDATE 2023:
–
Who Founded Glossika?
Many language programs are created by polyglots who speak many languages fluently themselves. Fluent in Three Months Premium, Mimic Method, LingQ, etc. Founders of those programs speak 5-20 languages fluently which makes them good language teachers. Somebody who has gone through the process of mastering new languages, knows something valuable. I always recommend from those who have already done what you want to achieve.
The founder of Glossika is an American linguist called Mike Campbell. I don't know how many languages he exactly speaks but people say that he has advanced skills in an astounding number of languages. Campbell is a real expert when it comes to learning languages so I certainly trust in his methods.
–
UPDATE 2023:
–
What Are the Main Benefits Of Using Glossika?
Glossika teaches you the vocabulary that you can use in everyday life. Here are some examples what you will learn from their "Fluency 1 Spanish course":
Ask & answer relationship status
Ask & give age / price / job
Describe what someone is doing now
Describe what people often do
Talk about likes / dislikes
All those things are very practical and useful. You can learn all this by listening and/or by reading. That's a big benefit because then you can learn your target language also on-the-go.
Glossika course gives you 10 months of content (on suggested schedule of 20 min/day). I believe that you can already have fluent conversations after going through all that material.
What Are the Cons of Glossika?
Some people who have used Glossika a lot say that it works better as a "supplement" rather than a primary language learning tool. I think that you can reach the fluency by using only Glossika. On the other hand, it's always good if you are practicing your target langauge in several different ways. Then you will maximize your learning and not get stuck.
–
UPDATE 2023:
–
Who Is the Glossika for?
In my opinion, Glossika is for anyone who is bored with a typical "Learn tons of grammar" -approach and wants to try something more effective. They will not teach you endless language rules but rather concentrate on more practical things.
Most Glossika languages has three levels: Fluency 1, 2 and 3 so you can choose a suitable level for you.
What Is the Price of Glossika Courses?
Glossika has several kind of options. Here are some examples about the pricing of their Spanish courses: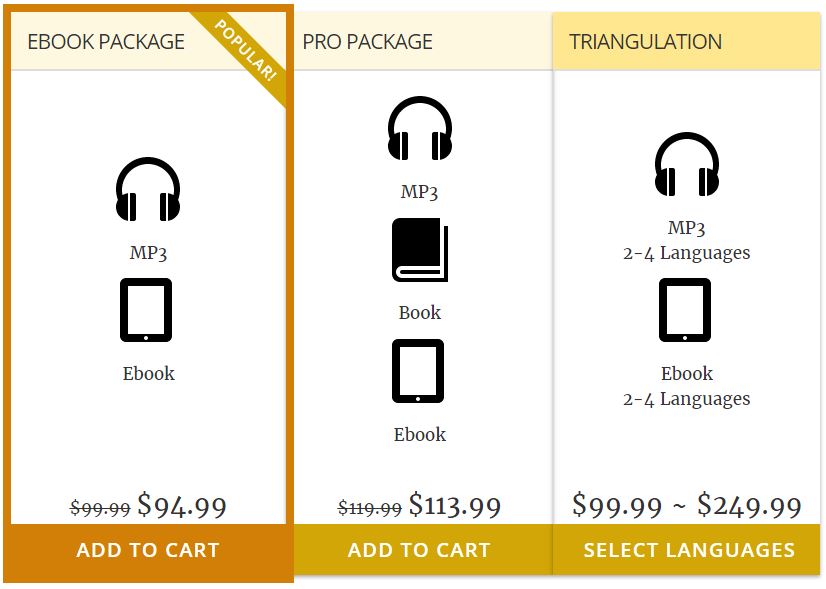 If you buy their Spanish audio lessons and eBook, the price is $94,99. But if you buy a few languages in a bundle you will get a discount. If you are planning to learn several different languages with Glossika, I recommend taking advantage of their discounts.
Pros & Cons
Pros:
Concentrates on learning the right things instead of tons of grammar
Creative learning method
Created by a true polyglot and a lanugage expert
Teaches you to use a new language in your everyday life
Includes more than 30 different languages
30-Day free trial
Cons:
More expensive than some other language programs
Conclusion – Is Glossika Worth It?
If you compare to local language courses, the answer is: definitely yes. Then if you compare to other language learning tools like LingQ of Fluent in Three Months Premium, the answer is: it depends.
It depends on what kind of studying do you like. Glossika is very different that many other language learning methods but it's very effective. Many people are reporting wonderful results after using Glossika.
I think that the best way to find out if it's worth it, is to try it out yourself. You can have a 30-day free trial of their premium version so you don't need to pay a single penny if you don't like it. But I am quite sure that you will like it like many other language learners have liked too.
–
UPDATE 2023:
–
Have you used Glossika Language Training? What did you like?
Let me know in the comments below! 🙂