After a boom of mobile the Internet and mobile apps, new methods of learning languages have become more and more popular. Today we will have a look for another modern language learning game. Is Mango Languages free and how does it work? For these and many other questions, you will get an answer in our comprehensive review of Mango Languages by our team member. Enjoy!
Mango Languages Review
---
Name: Mango Languages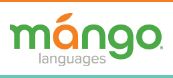 Website: www.MangoLanguages.com
Founded: 2007
Founders: Jason Teshuba, Mike Teshuba, Ryan Whalen and Mike Goulas
Overall Rank: 75 out of 100 (Check Out a Better Alternative!)
---
How Did I Stumble Upon Mango Languages?
As a student of the French language and therefore a consumer of courses on online language-learning sites, I found Mango Languages, a fresh, interesting site to visit. As a Queenslander living in Brisbane, I was also pleased to find out from the FAQ's section that Brisbane City Council Libraries have installed Mango Languages on their computers. Read more about Mango Languages and libraries below.
What is Mango Languages?
Mango Languages is a language-learning website that enhances the experience of learning a new language by exposing the student to aspects of a new culture at the same time. This approach gives students a better feel for the language than the traditional grammar and conversation methods. The software can be downloaded onto PC's or mobile devices that have iOs or Android systems installed. It feels somehow similar to a language learning software called Babbel.
Mango Languages website is quite large. It contains lots of information about their methods, but there are no demonstrations of actual language lessons that I could find. Still, there is a helpful video and some demonstrations on how Mango Languages work.
The information is interesting though and it conveys a sense that this website provides a "different" type of learning. For instance, Mango Languages provides specialized courses for business, governments, and homeschooling teachers.
The course for businesses helps business people and their families to become more familiar with the lifestyle and customs of another country if they have been transferred overseas for work-related purposes. The course for government and military agencies features specialized vocabularies so that crucial issues can be discussed without misunderstanding.
This would be a good place to see an example of the vocabularies and phrases that the site uses – it would be especially interesting to see some of the vocabularies that are used in diplomatic situations. The home-schooling program provides assessments and quizzes to parents and/or teachers. It seems that language games are becoming much more popular at schools because many are also using Duolingo already.
Mango Homeschool supplies 160 hours of learning for the at-home language student although Mango cannot guarantee that the course will cover all of the state's requirements for learning a language. This means that a homeschool student may not pass a state-level examination, even after they have completed the site's homeschool course.
All of these options are discussed on their home page. The use of mangoes to represent employees at Mango Languages is a fun graphic that is in line with the upbeat encouraging atmosphere that characterizes the site, although mangoes are a tropical fruit, which probably does not grow in Farmington Hills, Michigan in the USA. In other words, is this graphic relevant to the learning of a foreign language?
Where Are Mango Languages Available?
A very interesting aspect of the Mango Languages experience is its availability in all public libraries across the USA, Canada, Ireland, and Denmark. These courses are available in some of the public libraries in other nations. It's easy to find out whether there is a Mango Languages app in the local library in Australia or New Zealand. Just read through the FAQ's until you see the questions "Is Mango only available in the US and Canada?"
Click on the question and then follow the link below the words Find Your Library. If the site's programs are available in other countries, for instance, the UK or Asian countries, I have not been able to find confirmation of this on the site so far. A link to the FAQ's can be found on the home page.
To elaborate on the teaching methods used on Mango, there are some innovative strategies such as learning by watching movies. This technique helps students to see how a language works in a social context. Pop-ups of words spelled and pronounced phonetically help learners to get over the fear of big words. A very unusual technique called semantic color mapping shows nouns in one color and verbs in another so that the placement of these words is easy to see in a sentence. The order of words such as nouns, verbs, and pronouns usually differs from one language to another.
How Does Mango Languages Work?
To utilize Mango Languages.com individual users must first of all purchase the software. This can be loaded onto a PC or a mobile device which has either Android or iOS systems installed. The site's language learning tools can also be accessed through public libraries in many countries.
Individual learners need to create an account and login to access the site. The lessons can be self-paced or taught by a language tutor in a virtual classroom. Students can choose one or the other of these options and it's easy to switch between them. If language learners want to gain free access to the site from a public library, all they need to do is log into the library's website with their library card number. From there it is easy to go to the Mango website.
So, you can't use Mango Languages at your home for free because you need to get an access to a library. If you want to learn new languages by playing a game, I recommend taking a look at LingQ. It is probably the most effective language learning game on the Internet with more than one million users.
What are the Benefits of Mango Languages?
As I mentioned previously Mango Languages is a large site; it contains plenty of resources for language learners. Besides the seventy languages that can be learned on the Mango web pages, ESL, or English as a Second Language can be learned there as well. Learners from twenty nations, including Japan, Haiti, and Vietnam as well as speakers of Hmong and Cantonese, are some of the people who can take an ESL course.
Specialty courses such as learning Tuvan, a language which is almost unspoken in the 21st century can be found on the site. Extra special courses, for instance, Medical Spanish, Feng Shui, an article about superstitions formatted in MSA Arabic, an article about the Chinese Zodiac in Mandarin or an article about the German Octoberfest are some of the other special articles that caught my attention. Even Irish Gaelic is taught on this gigantic website.
The tools that help librarians to market Mango Languages are a resource that I have never seen before on a language learning website. The site advises librarians to promote Mango to the community so that visitors will know that it is available in their local library. By doing this, librarians will be promoting the use of libraries and promoting the case for the continuance of libraries as necessary community resources.
Is Mango Languages Free?
Visitors to public libraries in the US, Canada, Ireland and Denmark are able to use the Mango Languages site free of charge. The cost of using this website in public libraries in other nations around the world is not shown on the site, but obviously, there is some charge.
Other costs for usage of the site are as follows: Unlimited Access for $20.00 per month or $175.00 per annum for individual users. On the Home-Schooling page, it says that an instructor can be hired to teach an individual and five students for $20.00 per month. This is a good cheap price. Free trials are available which contain a single unit of learning for each of six languages. I'm not sure whether these languages are chosen by the customer, or by the site.
If you don't want to use the money for learning languages, I have collected a list of wonderful and free resources. Nowadays the Internet is so full of language learning resources that you don't even need to leave your home or use a single penny if you want to become fluent in any language.
Pros & Cons:
Pros:
You can learn about culture and language basics simultaneously.
Courses include assessment features and downloadable workbooks.
All the courses have been approved by Ph.D.'s.
Cons:
Their website is a bit difficult to navigate. Use the Site Map to help with this.
There are no demonstrations of language lessons on the site.
Conclusion – Is Mango Languages Good?
Mango Languages seems to be a helpful and another creative way of learning a new language. This kind of language games is becoming more and more popular every year. The only big drawback with Mango Languages is that you can't use it for free without an access to "Mango Language" -library.
If you want to have an access to a language learning game at your home for free, have a look at LingQ, Duolingo or Memrise. They are all great language learning websites and you can get started for totally free.
What do you think about Mango Languages? What are your favorite ways to master a new language?
I would love to hear from you, so leave a comment below. I will be more than happy to respond you personally within 24 hours (usually in 2-3 hours).