I believe that all languages are easy to learn. If a dog or a little kid can learn new languages, then an educated adult can for sure learn much more and faster. It only depends on three things: right mindset, practice, and right methods. You can learn any language if you have the right mindset. Even though you would have right methods but the wrong mindset (full of excuses) it can be hard to learn anything new.
Is English Hard to Learn for Foreigners? When comparing different languages with each other, I have heard that English would be somehow hard to learn. I don't agree. English wast the first language that I learned and there were times when it felt very hard. I remember that I was afraid of going to some English lesson because I was scared of speaking it. The problem was not in English language but in my mind.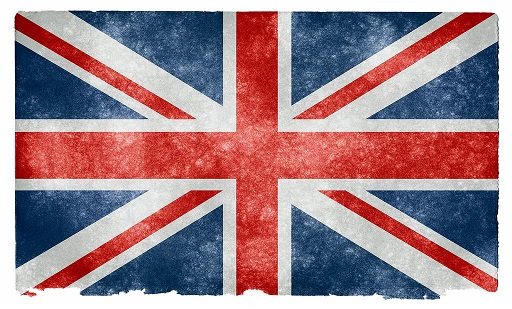 When I found Benny Lewis and his Fluent in Three months teachings, my language skills skyrocketed. I learned English, Spanish, French, Swedish and German much faster than ever before by using even less time. Something had changed in my mind.
Today I am going to show you a great language guide by Benny Lewis called Why English Is Easy. Lewis also believes that languages are easy even though he wasn't able to speak more than 1 language when he was 21 years old.
Why English Is Easy Review
---
Name: Why English Is Easy
Author: Benny Lewis
Price: $37
---
What Is "Why English Is Easy"?
Why English Is Easy is a part of Benny Lewis "Why X Is Easy" -series. We have already published a review of Italian, Chinese, French, German and Spanish on LanguagesAreEasy.com. English is the sixth one and then we have reviewed all of those programs.
This English language guide by Lewis is pretty similar to other ones in the series. The guide consists of Why English Is Easy -eBook, English Digital Immersion Setup Guide, and English Online Immersion Sample Daily Schedule. But there's one big extra on this program.
You have also available Italian, Russian, Portuguese and Spanish translation for each part of the guide. So, even though you wouldn't understand enough English, you can maybe read it in your mother tongue if it's one of those. Or if you are studying one of that language, it's a great exercise to read the guide in your target language.
English version is a little bit different than Spanish version, for example, because Lewis wants to give each speaker personalized examples. Learning is always associating new information with something that you already know. It's especially true with language learning. Because many languages have lots of similarities in vocabulary, pronunciation, grammar and other things.
About the Author Benny Lewis
The author of this English language guide is a world-famous language guru, Brendan "Benny" Lewis. However, he hasn't always been a such a good language learner. When he was 21 years old, he was only able to speak his mother tongue, English.
In addition, he even struggled with English pronunciation when he was growing up and challenges with pronouncing the English R until he was a few years into primary school. At school, English was his weakest subject.
But the things has changed. Nowadays Benny speaks more than 13 languages, he is the owner of the world's biggest and most famous language learning blog, he has created several courses and books for language learners (check out Fluent In 3 Months, my #1 recommendation). He has also worked as a professional translator, a professional English teacher infamous schools like Berlitz and the Wall Street Institute and taught hundreds of private students worldwide.
We must admit that Benny has lots of merits and authority in language learning.
"Why English Is Easy" -Content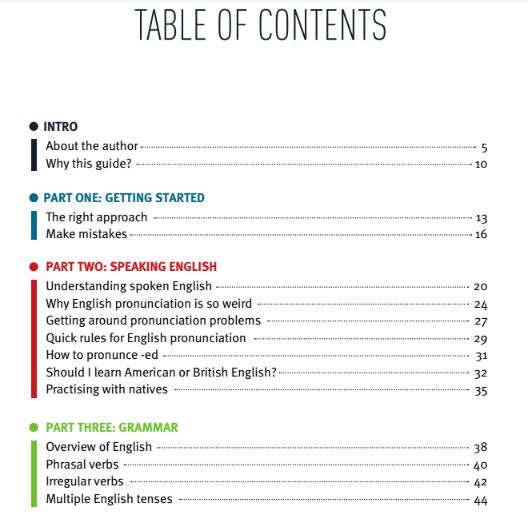 In the pictures above, you can see the content of Benny's eBook. He gives tips on having the right mindset, speaking English and how to avoid most common pitfalls, how to master English grammar and how to remember English words.
Each part will give you lots of very practical and down-to-earth tips. The best aspect of Benny's teaching is in my opinion that he doesn't concentrate too much on "academic" language but rather how you can use the language easily. It's not necessary to know how to speak the right "Oxford English". The most important thing is always to get your message through.
As you probably notice, I am not English native speaker either and I still make some grammatical mistakes even though I use English more than other languages. It doesn't matter how grammatically "perfect" is your English if people understand what you are saying.
Why Is English Easy to Learn for Foreigners?
First of all, for European learners like Spanish, French and German speakers English shouldn't be hard at all. Did you know that 70% words in English have come from French? The reason that some French people have with learning English is not the difficulty of the language but their wrong mindset. How fast you learn a new language depends at least 80% on your mindset and only 20% on techniques and methods.
Even though you wouldn't be from one of those countries that have a relative language with English, it's still an easy language for you. One thing that makes English easy to learn is grammar. English doesn't have genders, cases, different tones and there are only a few irregular plurals. If you compare to almost any languages, they have many of those "specialties" that English doesn't have.
English is also the studied language in the world. You can find English speakers in every city and it's very easy to find English tutors or language partners online. More than 50% of the whole Internet is written and spoken in English. It's the most used language in the world.
You can always find movies, books, music and any kind of material to practice English wherever you are.
Who Is the Why English Is Easy for?
Why English Is Easy is good for you if:
You want more confidence when speaking English
You're afraid of making mistakes
You're concerned about forgetting grammar or vocabulary
In my opinion, everyone who thinks that English is hard should read this guide. It will open your eyes to see things from a little bit different perspective. Wouldn't you like to have the right mindset as somebody who has learned +13 foreign languages? Brian Tracy (motivational speaker) always says, "If you do what other successful people do, you will eventually get the same results that they do."
What Is the Price of Why English Is Easy?
Benny's English language guide costs $37 like his other 5 language guides. The price in total would be $222 if you buy all his guides one by one. In my opinion, it's too much. That's why I recommend getting "Why X Is Easy" -bundle where you'll get all 6 language guides. In addition, you will get a Conversation Countdown-course which teaches you to speak a foreign language in one week. The value of that course is $67.
So, if you buy Why X Is Easy, you only pay $67 and you'll save $222 because you don't need to buy all courses one buy one and you get Conversation Countdown for free.
But there's even a better option what I have done myself. I bought Fluent in 3 Months premium course so I got all "Why X Is Easy" guides, full access to FI3M-premium area and tons of other material for learning new languages. If that course doesn't give you a breakthrough with languages nothing will ;). It's so powerful.
Pros & Cons
Pros:
Written by an English native speaker who speaks more than 13 different languages
Practical and down-to-earth tips
Translated in 4 different languages
2 Bonuses: Digital and Online Immersion Guides
30-day money back guarantee. No questions asked
Cons:
Conclusion – Is English Hard to Learn for Foreigners?
English is (one of) the easiest languages to learn in 2017. You have better resources to learn it than ever before. The only thing that could hold you back is a wrong mindset with excuses. My deceased grandmother studied English when she was 65 years old. Studies show that adults learn languages better than kids. There is not a single excuse that you could use why you wouldn't learn English 😉
Of course, you can live a life while doing something else than learning languages. That's also fine if that's what you want. But I want to make sure that you understand how easily you can learn languages when you have the right mindset and good techniques. Only the sky is the limit. There are guys who speak 40 or even 50 languages fluently so you can for sure learn a few new ones if you just want.
Are you studying English? How did you learn it? Why is English easy in your opinion?
Let me know in the comments below! 🙂