Would you like to learn Spanish fast as possible? I believe yes. Who wouldn't want? Spanish is a beautiful and one of the most spoken languages worldwide. Today I am going to answer a question, "How to Learn Spanish in a Day?" I am going to share a great resource that can give you a crucial breakthrough with Spanish. And yes, you can go through this course even in a day.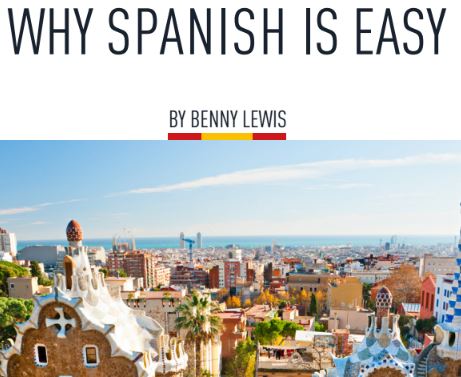 ---
Name: Why Spanish is Easy
Author: Benny Lewis
Price: $37
---
What Is "Why Spanish Is Easy"?
Why Spanish Is Easy is a short course made by probably the world's most famous language guru Brendan "Benny" Lewis. He has also created similar courses with German, French and several other languages.
Benny's course consists of an eBook and two bonuses.
Who Is "Why Spanish Is Easy" for?
This course is for you if:
You have started studying Spanish but don't feel confident  in speaking it
You worry about forgetting vocabulary or grammar
You would like to learn Spanish but don't know where to start
You want to learn from one of the best language teachers in the world
The content of "Why Spanish Is Easy."
Benny's eBook consists of Intro, 4 parts and conclusion.
Parts 1 and 2 – Getting Started and Speaking Spanish
Benny starts his book by telling his story and describing the right mindset for learning a new language. Just like in his "Why French Is Easy" and "Why German Is Easy" eBooks. However, he tells his story always from a different point of views when he learned different languages.
Benny Lewis speaks more than 12 languages nowadays fluently including Hungarian, Chinese, Quechua, American Sign Language, Turkish and many other languages. But surprisingly, Spanish has been probably the hardest language for him to master. It has nothing to with the difficulty of the tongue, but the reason is that back then Benny didn't know how he would learn Spanish easily.
He had studied Spanish at school, on expensive courses and lived in Spain for 6 months was still wasn't even able to ask where is a bathroom in Spanish. He convinced that he just doesn't have that "language gene." I'm very happy that he didn't give up kept on going. Nowadays he is probably the most influential polyglot in the world.
The second part gives tips to Spanish pronunciation and explains why it's actually quite easy. I am from Finland and I have found out that especially for Finnish people Spanish pronunciation is a piece of cake. They use the same vocabulary like in Finnish and English. In addition, they pronounce their words just like they are written. In my opinion, Spanish is much easy to pronounce than English even though I have used English probably 20 times more than Spanish.
Parts 3 and 4 – Spanish Grammar and Words
On grammar part, Benny gives tips on several important subjects, for example
When to use Ser or Estar
When to use Para or Por
How to remember the right gender (masculine "el" or feminine "la")
And more
The fourth part gives simple tips how you can learn Spanish vocabulary a bit quicker. One thing I noticed when I was studying Spanish that I didn't even need to know the Spanish word always. I just thought what is that word in English and then pronounce it in a Spanish way. It works quite often!
Do you know, for example, what means:
El hotel es moderno.
El helicóptero entra en la universidad.
El animal escapa del tren.
You don't need to know even a word of Spanish that you can translate those words into English.
Bonus 1 – Spanish Digital Immersion Setup Guide
This bonus helps you to dive into the Spanish language. It walks you through how to set all your digital devices into Spanish. You will learn:
• What add-ons to install on your devices to help you learn Spanish
• How to set up these language-learning tools on your devices
• How to use these tools during your Spanish study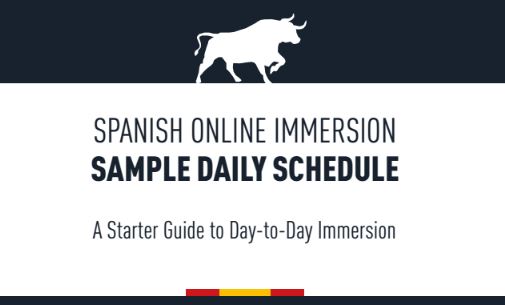 Bonus 2 – Spanish Online Immersion Sample Daily Schedule
This bonus will help you to use time every day for learning Spanish. It reveals many wonderful Spanish resources and tools that will keep you on the right track towards Spanish fluency. It will give many concrete ideas and steps what you can do in order to make progress.
The only way to learn a language is to dedicate time for learning. The biggest reason that people don't learn a new language is that they don't bother set any time for studying. This tool will help you to do that.
You can also find this tool for Spanish and for more than 10 different languages in Benny's Fluent in Three Months Premium course.
What Is the Price of "Why Spanish Is Easy?"
Why Spanish Is Easy costs $37, and there is a full 30-day no questions asked money back guarantee. If you are not satisfied with a course, you can get your money back immediately.
I am living in Austria, Kufstein. The price level high is not especially high here. But a language course in a local language school costs 339€ (around $350). The company where I am working is paying those courses for its employees which is the reason I took one German course there. But if I would need to pay myself, I would never pay so much for a language course because there are much better and 10 times cheaper resources online.
If you compare the price of "Why Spanish Is Easy" and a course in our language school, Benny's course is 9-10 cheaper and perhaps even more valuable. I have seen some very expensive "intensive" language courses that cost even thousands of dollars/euros. That's sick! It's totally possible to become a fluent in a foreign language for free. If you want to speed up the process, then you can use some paid resources like this Benny's Spanish course.
Pros and Cons
Pros:
Benny's Methods Are Simple and Powerful
You Can Learn Spanish in a Week or Even in a Day
30-Day No Questions Asked Money Back Guarantee
Helps You to Learn Spanish Much Quicker
Written by the Most Famous Language Guru in the World
Cons:
The Course Is Not Very Long
Now I would like to hear from you. What have been the best resources for you to learn new languages? How have you learned Spanish? Leave a comment below!
Or if you have any questions or comments about Why Spanish Is Easy, don't hesitate to leave them below and I will be more than happy to answer you personally.