Is Chinese Language Easy to Learn? Most people who I have talked to me about the subject have said that Chinese is hard. Does it mean that it's true? Not necessarily. Even though 99% of people would say that the Earth is flat, it doesn't mean that it would be.
I have found that there are still many general misconceptions about learning languages. And one of the most common ones is that languages would be hard, especially Chinese. Today we will learn why Chinese is easy and I will show you the guide by Benny Lewis.
Why Chinese Is Easy Review
---
Name: Why German Is Easy
Price: $37
Author: Benny Lewis
---
What Is "Why Chinese Is Easy"?
We have already learned from Benny Lewis that Spanish, French, Italian and German are all easy to learn. But what about Chinese?
Benny Lewis, the author of this guide, has learned more than 13 languages. He says that Chinese was much easier to learn than Spanish or French, for example. Why? Because he knew right methods and had a right mindset.
When he was 21 years old and couldn't speak any other than his mother tongue, he didn't know how he could have learned Spanish. So, it was the hardest languages he had ever learned. This proves the point that learning a new language depends 80-90% on our mindset and only 10-20% about technical things like grammar.
In "Why Chinese Is Easy" -learning guide Benny Lewis will shortly explain about his story of learning Chinese. He explains how to have the right mindset and the start for Chinese. In addition, he explains concrete things like Speaking Mandarin, Chinese Characters, Chinese Words, and Grammar.
As you may already know from Benny's other guides, he gives very practical and down-to-earth tips that can help you in practice. Instead of giving some very "academic" advice, he concentrates helping you to speak Chinese more easily and while having fun.
By the way, have you ever realized that Chinese is a human language any other? People use it to tell funny jokes, say cute things to their girlfriends, send text messages, motivate each other and all other things that people do in their mother tongue. It's not more complicated than that.
Why Chinese Is Easy!? – Content of the Book
I want to share you a few highlights from Benny's book. Of course, I can't share all of it but something that may open your eyes a bit. Some people think that Chinese is harder than European languages like Spanish, French or German. But let's have a look at a few aspects of the Chinese language.
1.No Conjugations. Let's take almost any European language and it's harder on conjugations. If you want to use verbs, you usually need to conjugate in different forms. For example, Cantar (to sing) in Spanish becomes Canto (I sing), Canté (I sang), Cantaríamos (We would sing) and so on. There are 14 different tenses and 6 different persons in each tense. What about in Chinese? You can say all these by using only one word! Even though Spanish is probably the easiest languages I have ever learned, Chinese seems to be much easier in this sense.
2.No Genders. German, Italian, Spanish, French… All of those have genders. German has even 3 of them. masculine (der), feminine (die) and neutri (das). What about in Chinese? You never need to learn genders because there are not them. Even though Benny learned German in 3 months and I have also realized it's an easy language, Chinese is even easier if we are talking about genders.
3.No Adjective Agreement. Italian, Portugues, French… Again, all of them have something that Chinese doesn't have. For example, if you want to say little prince in French, you use "petit prince" but when you want to say a little girl, you use "petite fille". This is not a big thing but again a little proof that Chinese is easy.
4.No Cases. Did you know that there are 14-15 ways to say every noun in Finnish or Czech, for example? German has 4 cases and the amount varies in other European languages. In Chinese, there are no cases. You don't need to think how to say "to the house",  "my house", "it's for the house" and so on. You just say jiā (家) and it you can use it all of those contexts.
These are only quick highlights what makes learning Chinese very easy. In his book, Benny gives much more tips and even very concrete words and sentences to speak Chinese easily.
What About Chinese Characters?
Everybody knows that Chinese is written with different characters than European languages. Let me give you a mind-blowing example that proves that you have already memorized hundreds of characters during your life. I will show you a few pictures now.
When you see those pictures (characters), you already know what most of they mean. They have some kind of meaning in your head. First one is Apple logo. Then there are many other logos. Maybe you recognize some of them. And the last one is Nike's logo.
This example proves a point that you have already learned dozens of characters during your life even though you didn't even try to memorize them. But what if you put effort into learning them? You will learn very fast. That's why Chinese is easy.
Why Chinese Is Easy – Bonuses
As in the other products of Why X-language is Easy -series, Benny provides bonuses.
Bonus 1 – Chinese Digital Immersion
This bonus helps you to dive into Chinese without using practically any of your time. It walks you through how you can set up your digital devices for Chinese.
Did you know that you can also type Chinese on your computer and smartphone? This bonus will tell you more about it.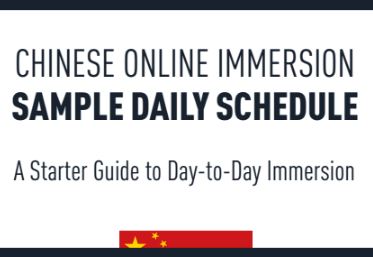 Bonus 2 – Chinese Online Immersion, Daily Schedule
Second bonus will give you very concrete online tools and schedule how you can implement Chinese studies to your daily life. It's important to plan when and how you are going to study Chinese because easily you will not dedicate time if you don't take time for it beforehand.
I believe that anybody could become a fluent Chinese speaker and writer using 100% online tools. Nowadays we have the best opportunity to learn languages than ever. Chinese Online Immersion -bonus will share you the best Chinese online tools. Benny knows where to find them because he has gone the process himself.
Who Is "Why Chinese Is Easy" for?
Benny created his guide for people who want to learn Chinese but are maybe a bit afraid of speaking it. Benny says that his guide is for you if you:
Need confidence for speaking Chinese
Need a boost of motivation to learn Chinese faster
Are concerned about Chinese grammar or vocabulary
Don't know where to start your Chinese learning journey
In my opinion, this guide is especially for those who think that Chinese is hard. After reading Benny's eBook and going through his guide, you will for sure realize that Chinese is easy.
Price for "Why Chinese Is Easy"
Benny's Chinese guide costs $37 which is a reasonable price for the information that he shares. If you would go to local language schools, you should probably pay much more but the benefit will probably not be as big as from Benny's guide.
My recommendation is still that you don't buy Why Chinese is Easy guide alone. Why? Because if you buy Benny Lewis' Why X Is Easy- package, you will get 6 guides and Conversation Countdown-course for a discount price. If you would buy all courses one by one, they would cost $222 + $67 = $289. But if you buy them in a bundle, you get all of them for $67 which makes you a 222$ discount.
I bought myself Benny's Fluent In Three Months Premium -course so I got all those guides, Conversation Countdown and other Benny's resources for $97.
Pros & Cons:
Pros:
Written by somebody who mastered Chinese himself
Makes Chinese learning easy
Gives concrete steps to master Chinese grammar and vocabulary
Offers 2 bonuses: Chinese Online Immersion and Chinese Digital Immersion
30-Day Risk-Free Money Back Guarantee. No Questions Asked.
Cons:
eBook is not very long
Some may call it pricey. (That's why I recommend buying Why X Is Easy or Fluent in 3 Months like I did. Then you'll get a discount.)
Conclusion – Is Chinese Language Easy to Learn?
What do you think after reading my article? After taking a look at Benny's guide I realized that Chinese is much easier than I have ever thought. I shared my findings to my Chinese flatmate and he agreed there are many easy aspects in Chinese.
I have only studied a little bit of Chinese during my life but it didn't felt as hard as people use to say. If you want to have a boost to your language studies, I recommend taking a closer look at "Why Chinese is Easy."
Have you studied Chinese? Have you tried Benny's language learning guides?
Let me know in the comments below! 🙂