As you may already know, we believe that all languages are easy. If even a dog can understand any language, nothing is impossible for humans. Today we are going to discuss why " Is Italian Easy Language to Learn?". I believe it is and so believes a famous language teacher Benny Lewis.
He has written a book called Why Italian Is Easy which where he will teach important techniques how you can learn Italian easily.
---
Name: Why Italian is Easy
Author: Benny Lewis
Price: $37
---

What Is "Why Italian Is Easy?"
Why Italian Is Easy is a short course made by Benny Lewis (Irish Polyglot). He learned to speak Italian in a few months himself and in this book he explains how he did it. He wasn't studying Italian full-time. On the contrary, he was working 63-hour-work week in a job where he needed mostly use English. I know that some people complain that they don't have time to learn Italian but it's not an adequate excuse after hearing Benny's story.
Why Italian Is Easy consists of following parts:
1.Why Italian Is Easy –eBook. (The Main Product)
2.Italian Digital Immersion Device Set-Up Guide. Walks you through how to set up your digital devices in Italian.
3.Italian Daily Immersion Schedule. A scheduling tool with full of links to Italian learning resources. Gives you concrete steps how to schedule your day in order to learn more Italian.
I will give you some glimpses of all of those parts so you can have a better understanding what is it all about.
Why Italian Is Easy eBook
Benny starts his book explaining his story and how he managed to speak Italian in a few months. Then he gives the best principles and ideas how you can have a right attitude and mindset when you start to learn Italian. If you think that Italian is hard, then it can easily hold you back and slow down your process.
I always say that having the right attitude is 80% of the language learning and techniques are only 20%.
Italian Pronunciation Is Easy
Next, Benny gives tips how you can learn to speak Italian. He will tackle some concrete steps that you can take in order to master it. Italian pronunciation is very easy because it's pronounced as it is written.
Tthe challenge is not that Italian would be hard but that English is so weird! 😉 Lewis will tell you how to overcome those challenges because he is an English native speaker himself.
There are some things in Italian that can scare you like a rolling R but Lewis will explain why you shouldn't be scared at all.
Italian Grammar Is Easy
Did you know these things about Italian?
It's a completely phonetic language. Once you know how to read you can speak.
No Cases. Compare to Czech and German.
Very few irregular plurals. Almost all Italian plurals follow very simple rules like for example, vino/vini (wine/wines).
No tones. Compare to Chinese and Thai.
Who can still say me that Italian grammar would be hard? Nobody. 😉
Italian Vocabulary Is Easy
Do you speak English, French, Spanish or Portuguese? If you speak any of those languages, then you already have a great advantage when you start to learn Italian.
Let me just mention a few words that you already know (there are hundreds of words similar to English)
Turista, artista
Delizioso, generoso
Magnetico, fantastico
I don't need to translate those words for you because they are so similar to English. Even though you wouldn't have studied a single word in Italian, you can already read simple texts in Italian.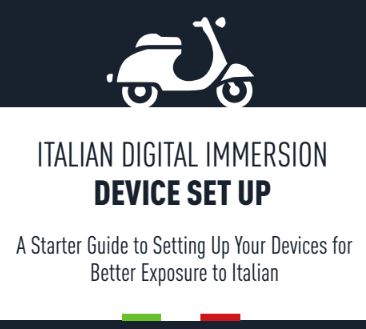 Bonuses – Digital and Daily Immersion to Italian
These bonuses help you to "dive" into Italian languages. Benny walks you through how you can set all your digital devices into Italian if you want. Then you don't need to use even a minute to study Italian and you are already learning every day. Effective methods of learning a new language save time and effort.
Daily Immersion tool will reveal you how Benny has included language studying into his own daily schedule. He gives tons of tips how you can also learn Italian every day regardless how busy you are.
What Is the Price of "Why Italian Is Easy?"
Why Italian Is Easy costs $37 like other parts in "Why X-language Is Easy" -series.
If you are willing to learn more than one language, then I recommend you buying a bundle "Why X Is Easy" for $67. Then you will get this course for 6 different languages: German, Italian, French, Chinese, Spanish, and English. In addition, you will get all bonuses related to these courses and Conversation Countdown 7-day email course. CC will help you start speaking your target language in 7 days.
If you are very serious about learning Italian and other languages, I recommend taking Fluent in 3 Months Premium course. All those parts are included in that course and there is much more material, for example, interviews from language experts who speak more than 40 languages. I bought that course so I got all these "Why X Is Easy" -courses for free. The price for FI3M is $97.
The principles that Benny teaches in his lessons are the ones that totally changed my language learning. Benny's courses have a 30-day money back guarantee. If you are not satisfied with your results, you will always get your money back. So, you can only win with his courses.
Pros and Cons
Pros:
Written by somebody who has learned Italian in a few months => Author knows what is talking about.
Simple and practical tips
A lot of additional resources and links to learn Italian
30-day money back guarantee. No questions asked
Benny's teaching may revolutionize your language learning as they did for me
Cons:
An eBook is not very long and it's pretty similar to other ones in "Why X Is Easy" series.
$37 can be a bit pricey for many people
Conclusion – Is Italian Easy Language to Learn?
Italian is probably one of the easiest languages to learn. I don't speak it very much because I have never used any time to study it but still I understand it somehow. I have many Italian colleagues in my workplaces and many times I understand their conversations even though I haven't studied any Italian.
The language is so close to English, French, and Spanish which I have already mastered. Italian pronunciation is a piece of cake because if you can read it you can speak it.
I hope you have enjoyed reading my article today. Benny's course will give you for sure many more breakthrough ideas for mastering Italian.
Do you already speak some Italian? How did you learn?
Let me know in the comments below! 🙂