Today in this Fluent in 3 Months Premium Review I am going to give you a thorough look what is Benny Lewis' premium language course all about. As you may already know, Benny Lewis is the man who changed the way I learn languages.
–
UPDATE 2023:
–
---
Fluent in 3 Months Review – Inside Member's Area
Before you dive into the text I want to give you an opportunity to watch a video review that I created. I will show you inside the member's area of Fluent in 3 Months and explain why I bought this course and what kind of results I've got with Benny's methods. I believe you will enjoy!
---
If I wouldn't have found his techniques and tips I may be still struggling to speak any foreign language. After finding Benny's methods I started learning languages much faster and while having a lot of fun. I realized that languages are easy if you are using right techniques. Benny Lewis, the creator of this program, fun-loving Irish guy, a full-time globetrotter and international bestselling author. He speaks more than 10 languages himself so he is a real expert on the subjects that he is teaching.
Let's dive into his language learning course.
Fluent in 3 Months Premium consists of 4 main sections: Language Hacking, Language Immersion, FAQs, and FI3M LIBRARY. I will show each of them and explain you what is are they all about.

1.Language Hacking – Learn Languages Faster Than Before
This section consists of 5 different resources: Speak from Day 1 – Video Course, Premium videos, MasterClass Videos,  Extended MasterClass Audio Interviews and Conversation Connectors.
Speak from day 1 is as the name describes, the short video course that will give you tools how to start speaking in a foreign language starting from day 1. Benny has done it many times himself, so he knows what it takes to do it. He knows what the obstacles are and how to conquer them. There are also tasks after each section that you need to finish before starting the next lesson.
–
UPDATE 2023:
–
In Premium videos, Benny shows you different ultimately helpful real-life tools how to learn a language. In his videos, he shows how he uses those tools himself. So he doesn't only throw "Here's a tool. Use it." Instead, he records when he is using the tool so you can see how everything works. He introduces for example MeetUp, Italki, Memrise and other great tools.
In MasterClass sections you will hear interviews with the best language gurus in the universe. These are guys who speak even tens of languages. I can give you some examples
Professor Arguelles speaks almost 50 languages
Moses McCormick speaks 40 languages including African tribal languages
Scott H Young learned Spanish, Portuguese, Korean and Chinese in one year while living under a strict "no English" rule
Luca Lampariello is known as the "accent guy," as he is often mistaken for a native in his various languages.
Motivational speaker Jim Rohn said, "You are the average of the five people you spend the most time with." If you spend some of your time to listen to the best language speakers in the world, I know that your language learning results will change dramatically. Compare this: listen to your friend who speaks 2 languages or listens to Moses McCormick who speaks 40 languages. Who do you think to have better tips for language learning?
Conversation Connectors is a resource that gives you most important "connectors" in every significant language in the world. Connectors mean those little phrases that keep the conversation going, for example, "Can you please tell me…" "She said something like…" "In principle that is true, but…" "In my opinion…" and so on. By learning these Conversation Connectors you are much better in maintaining a conversation in your target language.
–
UPDATE 2023:
–
2.Language Immersion – Dive into a New Language
This section consists of 2 parts: Huge resource bank and Forming your daily learning routines
In this section, you can choose from more than 15 big languages which one you want to study. Then you click one of those and a huge library of the best language learning tools online will open for you. Here are some of the features that language immersion gives you for example with the German language: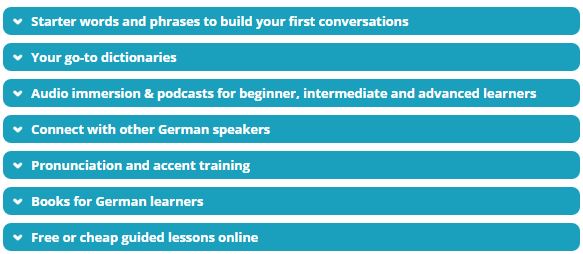 In the picture above you see only a part of all those resources that you will get. Then you click which one you would like to take. Let's say that you choose "Free or cheap guided lessons online."
Then Benny gives you a short introduction what this section is all about. He gives you 2 "Top Picks" which are the best resources in his opinion and then "The best of the rest" where are 6 another free or cheap guided lessons online.
Using this language immersion tool will definitely give you enough work to learn a language from a total beginner to C2 level (which equals to a native speaker level). If I am going to study a new language, for example, Portuguese or Italian I will for sure use this Fluent in 3 Months' Language Immersion resource bank. I believe it will be much faster to learn a new language using these tools than an expensive course in a local language school.
When you have chosen which tools you want to use you can click the following button:

It allows you to create routines that you will help you to learn a new language. Benny also shares as an example what kind of tools he would choose to create his own morning, afternoon and evening routines to master a language. I believe that this section will help you a lot to keep you motivated and keep on going. When you are studying yourself without a teacher breathing over your shoulder you need to have the discipline to take time and study.
Studies show that people who write down their goals achieve much better results than those who don't write. That is also one reason why planning your studying routines is ultimately beneficial. Like U.S. President Benjamin Franklin said, "If you fail to plan, you are planning to fail!" And Brian Tracy continues, "Every minute you spend on planning saves 10 minutes of execution." So don't forget to plan how you are going to study because it will increase your productivity a lot.
3.FAQ's – Ask Anything You Want
In this section, you can see what other Fluent in 3 Months Premium members have asked and what are the answers. Then you can ask questions yourself. Below you can see some example questions what have been asked recently.
4.FI3M Library – Free Book (Worth $90) + Other Material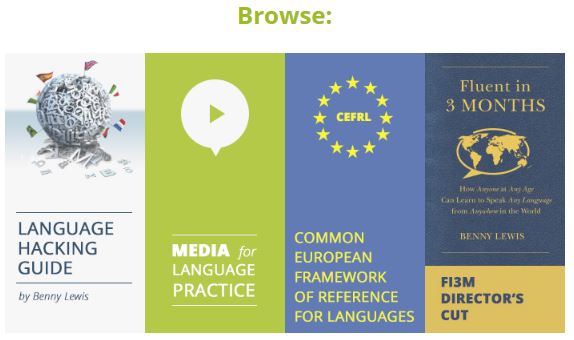 You can see that this part consists of 4 different sections too:
Language Hacking Guide
Media for Language Practice
CEFRL (Common European Framework of Reference for Languages)
Fluent in 3 Months Director's Cut
I want to mention that the price Language Hacking Guide used to be $90 if you bought it separately but nowadays it's included in the premium area as a part of this whole package. It's Benny Lewis' bestseller book that helps you to improve your confidence, speaking skills and memory. You can read it 25 different languages so even if your native language is not English, you can read it also in your mother tongue.
Reading Language Hacking Guide will probably save hundreds of hours of your time during your life because you are learning languages much faster.
–
UPDATE 2023:
–
Fluent in 3 Months Premium Price
The price of Fi3M Premium used to be $197 but nowadays you can get it in under a half price $97. My German course in a local language school costs 339€ for 19 lessons + 2 books for 34€ (thank God my company pays the course). That German course costs about 4 times more for 19 lessons than Fluent in 3 months for a lifetime access. Even if the price would be the same I would say that Fi3M is much more beneficial than a course with old-fashioned methods.
Buying this product is 100% risk-free because you have a full 30-day money back guarantee. If you don't like the course you can have your money back. No questions asked. But I am sure that this course will change the way you learn languages so you will be more than satisfied.
You will also have a priority support from the premium language team. You can ask any question that comes to your mind, and the support team will come up with a professional answer.
I think that one of the best uses of money is to invest into learning new skills. Because those skills will allow you to earn that money back 100x times during your life. I am quite a frugal person. I don't use very much money but investing in this course was certainly a good use of my money.
My Final Opinion of Fi3M Premium
I honestly think that Benny's language learning techniques should be taught at schools. If I were teaching languages at schools, I would teach students accurate methods from the start. Benny's method of learning languages is unconventional because the purpose is that you learn to speak in real-life situations. At schools many times we just prepare for the tests.
Even though I have read and listened to Benny's teachings already for over two years, I still find new ideas and tips. Today when I was writing this review and going through different sections of member's area I thought many times, "Whoa! This piece of information is precious. I really want to use it in my own life." And even though I had heard some thoughts before, they become even stronger when I listen or read them again.
–
UPDATE 2023:
–
Then tell me what kind of results you got.
If there is anything you want to ask, don't hesitate to leave a comment and I will follow up with an answer.
What do you think about Benny's course? Leave a comment below!